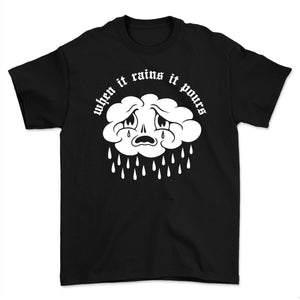 When it rains it pours
Elvis Presley said it, Luke Combs said it…hell, even 50 Cent said it: when it rains, it really damn pours. This print was created for those days when everything feels a little bit too much. Remember that every cloud has a silver lining, including this sad, bad boy here!
The "When it rains, it pours" print comes with a basic black tee to match your view on life on those days when everything is utter BS. Try it on, take a picture and tag us on Instagram @junkyardla to be featured!
Screen Printed by hand in Los Angeles, CA
Expect USA delivery in 5-10 business days.
---
We Also Recommend
---